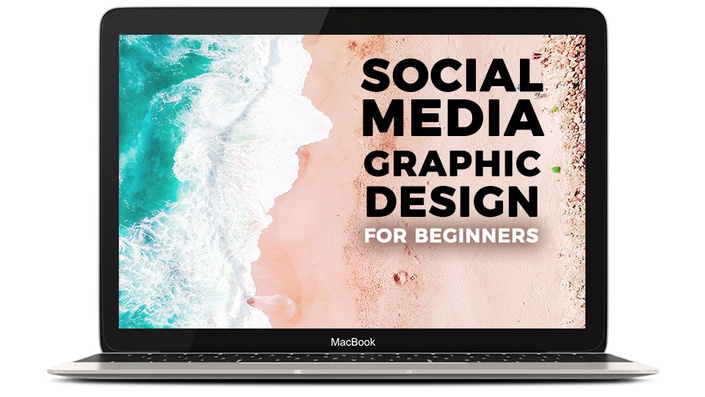 Social Media Graphic Design For Beginners
Using Canva and other free tools, we'll design beautiful graphics for your business and social media
Watch Promo
The truth is, most of the incredible, eye-catching graphics you see online aren't created with expensive software by professional graphic designers.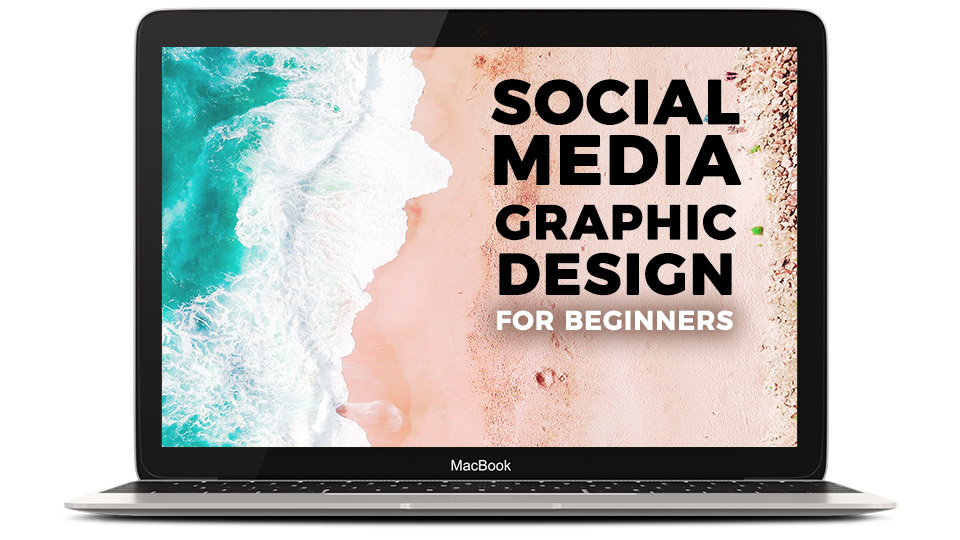 They're created by people like you and me, using free tools that are simple and (let's face it) ridiculously fun to learn!
So the only question is - are you ready to create something remarkable today?
In order to get attention in the online world, you need to make a bold statement.
You know that you're awesome, now your visual content can be too.
Inside this course, you'll learn exactly how to use some of the best free tools for graphic creation available today. Whether you're a complete beginner or a design expert, you'll find some interesting and exciting new ways to create and enhance your graphics.
Using tools like Canva (and many others) we'll create everything from simple Facebook graphics and Pinterest board covers, up to the more advanced skills like creating moving GIFs for Instagram Stories and designing professional looking business cards and eBooks from scratch.
What's on the inside?

TERMINOLOGY AND CREATION BASICS
As a freelancer, I've seen people breach copyright laws time and time again. In this part of the course I'm going to teach you exactly how to avoid this, and where to find 100% free materials to use for your designs. We'll then go through some terminology that we'll be using in this course so you can be a pro right from the get-go, I'll even show you some awesome tools for creating your own colour palettes!
CANVA
I will be navigating you through a free tool called Canva and showing you how to get the most of it, in ways that most people never even knew were there!

FACEBOOK
We'll create eye-catching Facebook post graphics, and attention-grabbing Facebook ad images. Not only that, but I'll be showing you how you can avoid the mistakes that most people make with their Facebook cover images by not making them mobile friendly. We'll be using my custom templates that make it super easy for you to create banners that look good on every device!
By the end of this lesson you'll create graphics that even Zuckerberg himself would give a thumbs up to!

PINTEREST
Pinterest is basically an online vision board gone MAD. In a really, really good way. We'll be learning how to create stunning multi-image pins and how you can set up your own templates to make the process of creating new pins a breeze! I will then show you where most Pinterest board covers go wrong and how you can avoid other people's mistakes. Finally, we'll dive into the colourful world of infographics and how you can use them to take over the platform!

YOUTUBE
Not just kittens riding Roombas, and Irish families chasing bats out of their kitchen!
YouTube is so much more than that, although that stuff is amazing. As the second most visited website in the world, YouTube is a hot commodity for nearly every industry. Due to its high-ranking, it can also afford to be quite demanding on not only the video quality, but also the visual presentation of the videos. That's where I come in. We'll be going through the tricks that the world's top YouTubers are using to create their channel art and how you can steal their ideas. We'll then go through how to cut yourself out of photographs and place yourself into your YouTube thumbnails to make your graphics really pop!

INSTAGRAM
Tanned travellers of Instagram watch out - we're comin' for you! It's true, Instagram is edited to perfection. But other than just giving us our daily dose of adorable pugs, perfectly arranged smoothie bowls and more turquoise water than we can sometimes handle - Instagram is also a place for creative geniuses like us.
So in this part of the course we'll be going through how to create inspirational quote graphics for your feed, and how to create amazing multi-image posts to tell your audience a story or announce the arrival of a new product into your online store. And finally - we'll get extra creative by learning how to make GIFs and short video clips for your Insta Stories!


BUSINESS AND WEB
Whether you're a business owner or not, you'll get so much value out of this part of the course. We'll be learning how you can make your own logo, business card and even create a professional eBook for your business. I'll also be taking you through some awesome tools you can use to resize your eBook PDFs and any of your images to keep your website speed high and give you so much extra space on your computer you'll think you're Sandra Bullock in Gravity.

BONUS LESSONS
I've also got a few extra lessons for you where we'll cover additional uses for the skills you've learned in this course. We'll cover how you can use your skills to design images for LinkedIn, Google+ and Twitter. I'll also show you how I use GIFs for making eye-catching email opt-in promotions. Finally, I'll be showing you some awesome free mobile apps you can use for creating visual content on the go!

Q&A
This section of the course is reserved for you to be able to ask me anything and everything. There's a space for you to show off your designs and even get suggestions for simple tweaks that would take your designs to the next level!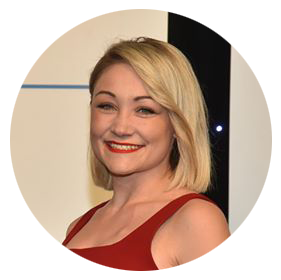 "Thanks so much Maggie for this course! I absolutely loved it. I have been able to create some stunning images thanks to you and have a much better understanding of how to make good use of the free software out there on the internet.
My Instagram following has grown and I feel so much more confident about sharing images. I am looking forward to being able to create youtube graphics when I start doing my own videos too! I loved how detailed you were but how straight to the point you also were and that I was able to finish the course in an afternoon and start putting my new skills to work that same day.
Maggie is funny and easy to listen to and is full of great knowledge that she is more than willing to share. I highly recommend her course and I am looking forward to what else I can learn from the team at Living to Roam."
- Dimity Bullen-Nicholas, thelittleteaboutique.com
Your Instructor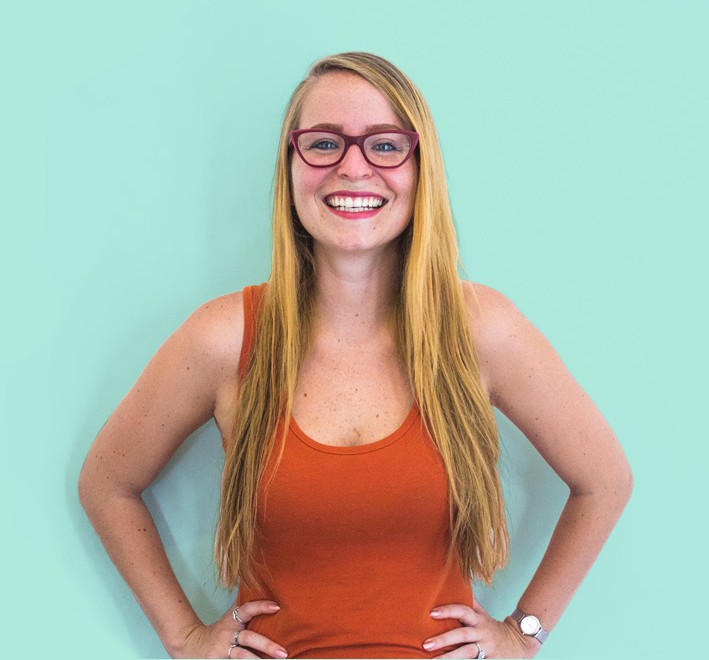 Hey you! I'm Maggie,

A freelancer, blogger and your digital marketing and content creation instructor!
When I first wanted to learn the skills to begin working online, I struggled with the lack of quality information out there for beginners. And after learning the ropes the hard way and becoming a successful freelancer, I set out to help make things easier for creative overachievers like myself.
So, I went ahead and created everything with you in mind.
My courses aren't made by someone with decades of experience who has forgotten what it was like to be a newbie and learned design and digital marketing and design in the era of Myspace and Microsoft Paint. They're made by someone who knows exactly what it's like to be trying to master 20 tools at once and stay on top of constant updates with each of them.
As a location independent freelancer, I have travelled all over while working from my laptop. My online skills have led to working with an exciting range of talented people, from sole traders to multi-million dollar businesses. Some of my freelance clients have been featured in The Huffington Post, ProBlogger, The Sydney Morning Herald and Cosmopolitan, just to name a few.

I think more than anything, my passion for teaching comes from a combination of insatiable creativity and a constant need to pay it forward and help as many people as I can!
And finally, my ultimate goal is for you to feel empowered and excited about your future having learned the skills within this course!

Thanks for being here and I hope to see you on the inside,
Maggie x


Who is this course for?
This course is for you if:
You want to learn how to design amazing graphics for your social media platforms, your website or your business

You're a business owner who wants to learn how to design your own logos, business cards and eBooks without having to rely on professional designers

You're a freelancer who wants to take your design skills up a notch without needing to learn expensive software


Or you're just someone who enjoys learning new things and you can't wait to show off your new design skills!



Frequently Asked Questions
How is this course taught?
The skills you will learn in this course are taught mostly through step-by-step, follow-along screen-share videos and slideshows. This is a hands-on course and you will learn actionable skills which you can begin using while you're still learning! You will also have access to downloadable resources and helpful links along the way.
When does the course start and finish?
This is a completely self-paced online course - you can decide when you start and when you finish :)
How long do I have access to the course?
How does lifetime access sound? After enrolling, you have unlimited access to this course for as long as you like - across any and all devices you own.
What if I am unhappy with the course?
I would never want you to be unhappy! If you are unsatisfied with your purchase, contact me within the first 30 days, and I will help in any way I can. But if you're still certain that this course is not right for you, I'll give you a full refund!
Will I need to buy any special equipment to complete the course?
Nothing special, but having a computer with a Wi-Fi connection is a must. There is also a bonus lesson which incorporates smartphone design apps, so having an Apple or Android phone will enable you to take full advantage of this. Other than that, just a willingness to learn! :-)
What happens if I get stuck... is there any support?
Yes absolutely! All students will be able to access the Q&A section of the course, so you will have a chance to ask me anything you might need some extra help with!
Do you need to have any graphic design experience before taking this course?
Definitely not! I can teach you everything you need to know in order to create beautiful images, from start to finish and with ongoing support. All you need is a positive attitude! Oh, and maybe a glass of wine (or three) for when it's time to cheers to your success! ;-)
I still have more questions!
No problem! Please contact me at
[email protected]
for anything and everything and I'll reply as soon as I can!
Are you ready to start creating
beautiful graphics with me?
Let's do it!
- Maggie